This October Southampton is putting on a Festival of Words called SO: To Speak. Running from the 23rd of October to the 1st of November the program is packed with exciting workshops and events to attend, with more still being added. If you're in the area it will be worth checking out and if you're not in the area then it's a great time for a holiday.
As if that wasn't exciting enough the festival organisers have commissioned a chapbook by Southampton poet Matt West. This will be launched on Thursday 29th October at Solent Sky Museum. Matt runs the ArtfulScribe organisation which helped raise the profile of poetry in the Southampton area via workshops and poetry nights. Since then he has spread out to Bournemouth, Winchester and Poole, a creeping tide of poetry that has done much to enrich the area.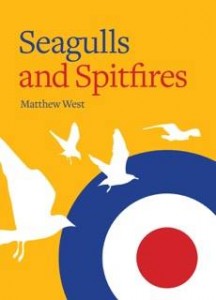 As you can see the book has an eye catching cover designed by SharpDesign. The book divides into two parts. The first starts in Lymington where an encounter with seagulls leading to taking a Puffin Cruise and learning more about seagulls. This first section links to the second part about Spitfires with subtle references to the Second World War such as "little boats – with cracked paint and rusting hulls -/unlikely heroes that once formed part of a flotilla/evacuating soldiers from Dunkirk beaches in 1940". The gulls themselves form squadrons in the opening poems.
The second part of the book pays tribute to Southampton's history in the creation, testing and production of the Spitfire. Packed full of details these poems manage to remain lively and readable and not dry Wikipedia entries. Various characters spring into life on the page; Mutt Summers, Ginger Lacey and Mitchell to name a few. The journey which began in Lymington ends appropriately in Southampton where "Supermarine is long gone, its gates shut/for the last time in 1960. Spitfire Court/ has taken its place".
I have heard several of these poems performed over the course of the production of this collection and they walk that difficult line of working well as performance pieces, as well as, working on the page. The launch will be a show worth seeing and the book one worth getting your hands on.